Upcoming Course Dates
Liver, Pancreas and Upper GI Oligometastases Imaging and SBRT
March 23-25, 2023
Course Leaders: Drs. Jelena Lukovic, Ali Hosni, and Laura Dawson
Guest Faculty: Dr. Michael Chuong, MD – Miami Cancer Institute
Stereotactic body radiation therapy (SBRT) has been proven to be an effective tool in the management of both primary liver cancer (HCC) and metastatic liver, pancreas and other oligometastatic lesions. This course is a 2.5-day immersive educational program where experts will guide participants through the relevant clinical, pathologic, radiobiological, oncologic and technological principles that guide the assessment, decision-making and treatment of these patients using a combination of lectures, discussions and hands on experiences.

**The course is currently planned for an "in person" delivery. We will continue to monitor the situation and if necessary, may convert the course to a virtual or hybrid model. A final decision on format will be made in late 2022 and we strongly encourage registrants to refrain from making any travel plans until an 'in person" delivery has been confirmed.

Audience: All radiation medicine professionals

Registration: $2500 CDN
Early bird registration (on or before February 23, 2023): $2125 CDN
Alumni registration: $2000 CDN 
Trainee registration: $350 CDN
Please contact aep@rmp.uhn.ca to learn more about how to register.
____________________________________________________
Accelerator Technology (ATec)
Virtual Section: May 31, June 7, 2023
In-Person Section: June 14 & 15, 2023
Course Leaders: Mr. Bern Norrlinger & Dr. Patricia Lindsay
The ATec Education Course is developed to address the training needs of all staff responsible for the use and maintenance of medical accelerators. The emphasis of the course is on the practical aspects of maintaining Linacs, through a combination of lectures and hands-on labs.
This course will be conducted in a hybrid format, including both online, didactic elements followed by 2 days of in-person sessions at the Princess Margaret Cancer Centre in Toronto.
**While this course is currently planned to have "in person" sessions, we will continue to monitor the situation and if necessary, may convert the course to a virtual format at our discretion. 
Audience: Medical physics trainees, physics associates, accelerator services personnel, regulatory and standards body personnel
Registration: $1,100 CDN
Register for this course here.
Please contact aep@rmp.uhn.ca if you have any questions.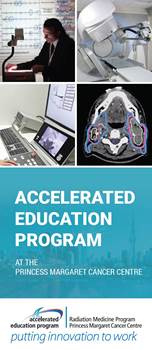 "The course was extremely well organized, technologies facilities were excellent.
Thank you for an excellent program" – Liver SBRT April 2016
"The multiprofessional material gave me a clear picture of what a patient endures,
and the reasoning for medical decisions" – Soft Tissue Sarcoma: The Toronto System October 2017
Download Program Pamphlet
Accreditation
Accreditation is an important component of our on-site CME course offerings. We apply for credits from the following regulatory bodies when applicable to a given course offering. The number of credits awarded varies, please contact us directly for specific credits awarded.
Canadian Association of Medical Radiation Technologists (CAMRT)
Royal College of Physicians & Surgeons of Canada
Medical Dosimetrist Certification Board (MDCB)
Commission on Accreditation of Medical Physics Education Programs Inc. (CAMPEP)
Click here for information on our Registration Policies
On-Site Course Descriptions
Image-Guided Radiation Therapy (IGRT)
Quality & Safety in Radiation Therapy (QSRT)
This course aims to expose learners to the overarching principles that comprise a program-wide approach to quality and safety and proposes a variety of tools and approaches that learners immediately experience to help advance their own practice along the quality continuum and provide insights to be brought back to their local program.
Intensity-Modulated Radiation Therapy (IMRT)
Over the past decade, Intensity-Modulated Radiation Therapy (IMRT) has emerged as the standard of treatment for the delivery of the safest and most effective radiation therapy. It exploits technologies that minimize treatment side effects, while giving definitive radiation doses to diseased tissue. The course was developed to share a unique interprofessional approach to patient treatment and program development to give professionals an opportunity to enhance their knowledge and skills in this area.
On-Site Registration Policies
Confirmation of registration will be provided upon receipt of payment. DO NOT book non-refundable travel until your registration has been confirmed.
Registrant Cancellation: Written notification of cancellation is required at least ten business days prior to the course start date. If notification is received by this time a refund will be issued, minus a 15% administration fee. Substitutions and transfer of registration to a future course are also permitted. No refund will be issued if cancellation is received fewer than ten business days before the course start date.
Course Cancellation: If a course is canceled, the Accelerated Education Program will refund the course registration fee in full but is not responsible for travel, accommodation, or other expenses incurred by the participant. The AEP assumes no liability for changes in course content or faculty.
Early-bird Discount: The AEP offers a 15% early-bird discount* to registrations completed four weeks or more prior to a course start date.
Alumni Discount: The AEP offers a 20% discount* to University of Toronto Department of Radiation Oncology Alumni.
Trainee Pricing: Trainee pricing is available on a course by course basis. Trainee pricing is not applicable to courses marked with an asterisk.
Group Discount: If you are interested in attending one of our on-site courses with colleagues from your institution please contact us directly before registering as you may be eligible to receive our group discount rate.
*Discounts are only applicable to general registration pricing. Discount may not be applied to trainee pricing. Discounts cannot be combined.
These policies are subject to change without notice